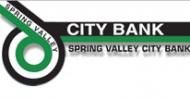 Spring Valley City Bank
Address:
 315 North Cornelia Street, Spring Valley, IL, 61362
Phone:
 815-663-2211
Tall Free:
 866-626-6791
Website:
www.svcb.com
We are a full service bank specializing in home loans for the entire Illinois Valley area.
Spring Valley Bank, locally owned and operated since 1905.  Member FDIC and an Equal Housing Lender.
"Do business with your friends and neighbors; do business with Spring Valley City Bank!"
Our services include:
Fixed Rate Mortgages
Variable Rate Mortgages
Balloon Rate Mortgages
Construction Mortgages
Home Equity Lines of Credit
Commercial Loans