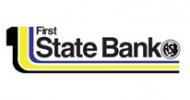 First State Bank
Address:
 4351 Venture Dr., Peru, IL, 61354
Phone:
 815-538-2265
Toll Free:
 800-362-9623
Website:
www.firststatebank.biz
First State Bank provides high quality competitively priced Financial Products and Services. Highly trained personnel assist consumers with decisions about home loans, deposit products, investment opportunities and insurance. First State Bank is privately owned and a Member FDIC, Equal Housing Lender.