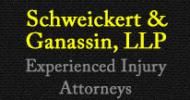 SCHWEICKERT & GANASSIN, LLP
Address:
 2101 Marquette Road , Peru, IL, 61354
Phone:
 (815) 223-0177
Toll Free:
 (888) 715-6388
Fax:
 (815) 223-8449
Website:
www.ganassin.com
OVER 115 YEARS OF EXPERIENCE IN ALL AREAS INVOLVING PERSONAL INJURY
At the law offices of Schweickert & Ganassin, LLP, we bring more than three decades of practice experience to the practice of law on behalf of clients across Illinois. We have extensive experience in court, a distinction that has earned attorney Scott J. Ganassin a place on The National Trial Lawyers' list of The Top 100 Trial Lawyers — Illinois. In our years in practice, we have secured hundreds of millions of dollars in damage awards for our clients, including numerous settlements and jury verdicts well in excess of a million dollars.